Enjoy a 50% Multilogin Discount
With A Free ProxyEmpire Plan!
Use Coupon Code "PEMPML"
Get a 50% Multilogin Discount & Free Proxies
How To Get The Special Multilogin and ProxyEmpire Bundle​
Step 1 – Go to Multilogin's website and create an account with them.
Step 2 – Buy any of their plans and use Multilogin discount code " PEMPML ". The bigger the MLA plan you purchase, the more proxy bandwidth you will get in return.
Step 3 – After purchasing Multilogin come back to our website and message our live chat or send us an email to [email protected] with the payment confirmation and you will receive a free proxy package depending on the MLA Plan you purchased.
If you purchase their Solo Plan ($100 per month) which allows you to create and manage up to 100 Browser Profiles you will receive our $45 – 3 GB Residential Proxy Bandwidth for free for the first month.
By purchasing Multilogin's Team Plan ($199 per month) you can create and manage up to 300 profiles with unique browser fingerprints you will receive our $150 – 15 GB Residential Proxy Bandwidth plan for free!
And if you are ready to take your business to the next level by purchasing their $399 a month plan which allows you to make up to a 1000 Profiles you will receive our $300 – 40 GB Residential Proxy Plan for free!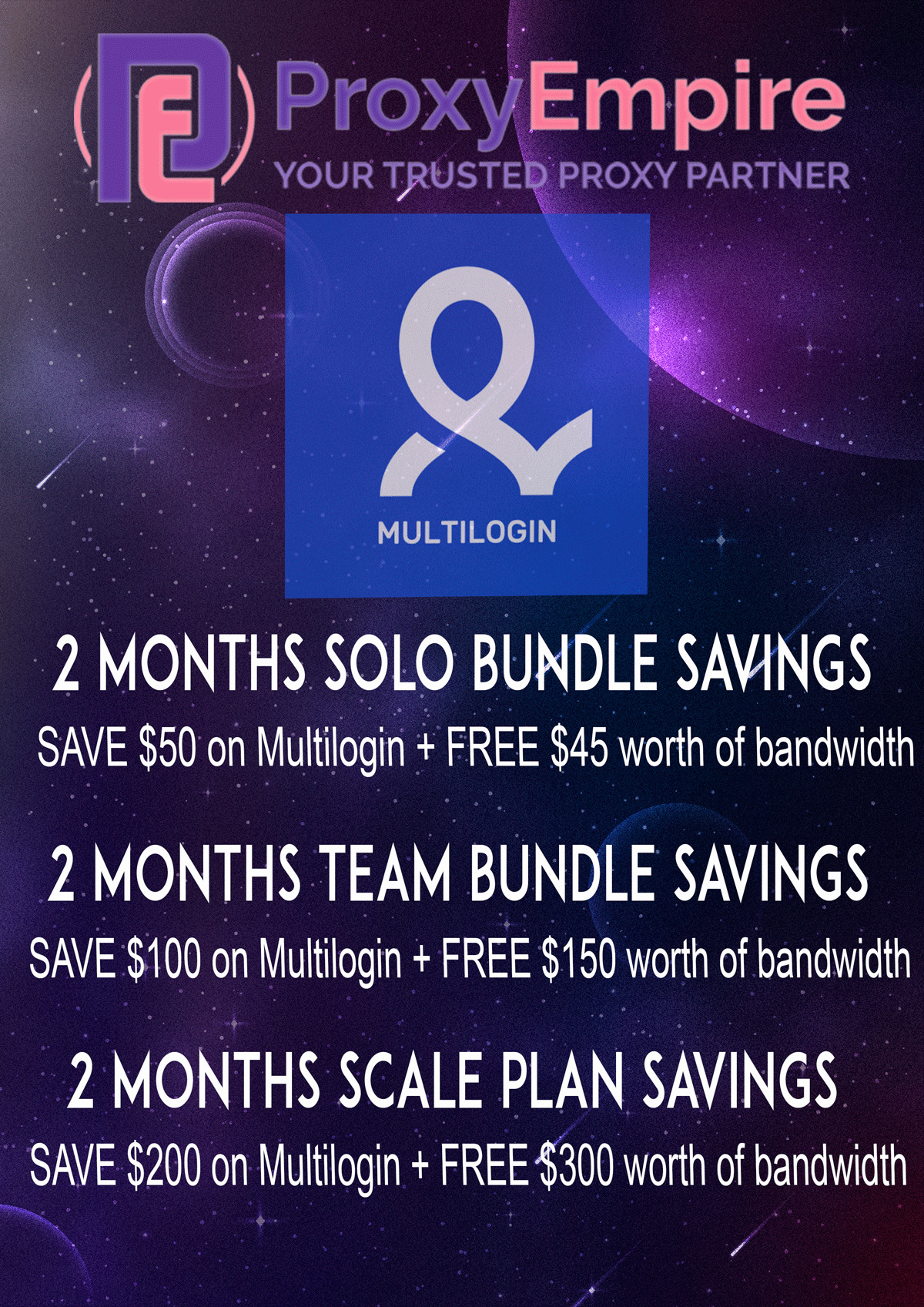 Why Is Multilogin The Best Anti-Detect Browser?
Use Multilogin to expand your business well beyond what you believed was achievable. Break free from the constraints of physical devices and abandon insecure virtual machines in favor of safe virtual browser profiles – and watch account bans drop and income skyrocket.
What is the key to this success? Multilogin's native browser fingerprinting method.
Unlike other anti-detect browsers, which simply prevent websites from seeing your identity, which those websites regard as highly suspicious, Multilogin's virtual profiles replace your original fingerprint with a distinct, fully customizable fingerprint that can be read by third parties and appears to be a genuine native device.
Through Multilogin, even tiny companies may compete on a worldwide scale with thousands of online accounts. Their platform enables e-commerce shops to manage various shopfronts across industries and regions, affiliate marketers to boost their campaigns with unrivaled reach, agencies to manage multinational portfolios, and much more.
Multilogin understands that data security and stability are critical components of their clients' companies and success. Multilogin is the only solution that fully encrypts your data on AWS Cloud such that even they cannot access it. Your password is hashed and nearly hard to decrypt; similarly, your session data is encrypted, with cookies transformed using the AES cipher.
Finally, leverage their sophisticated automation connection with Selenium and Puppeteer to capture the most ambitious prospects. Automate manual operations such as account creation, data retrieval, and traffic simulation on a scale much beyond human capabilities.
Multilogin makes the impossible possible.