Octobrowser Is a new anti-detect browser that is designed to allow you to log into multiple account platforms seamlessly. We are proud to announce that ProxyEmpire and Octobrowser are now official partners and we will guide you step by step on how to set up your proxies with Octobrowser.
Antidetect browsers are used by affiliate marketers, corporations, and social media managers to efficiently sign into multiple accounts without linking any of them together.
Think of it like a chameleon lizard.
These browsers mimic different user agents and other key factors that are utilized to trace who you are across the web. Instead of just hiding your identity, technology like Octobrowser gives you a new one for each account you create or manage.
The staff of ProxyEmpire first met the Octobrowser team at the MAC Moscow conference in 2021 so we have real-world experience in dealing with the minds behind the tech seen here today.
We can confidently recommend the technology since we've used it.
Octobrowser works great with team management, has a tag manager, and the developers have created a unique spoofing algorithm that gets you past fingerprint checks on some of the most stringent platforms like Amazon or Craigslist.
Priced at €29 for 10 profiles, we think the value is clear and it is affordable for startups. Let's start setting up your user profiles. 
Step 1: Download & Sign Up To Octobrowser
The official website of Octobrowser is in Russian but can be easily translated with Google. The staff at Octobrowser has assured us at ProxyEmpire they will have an English web page soon.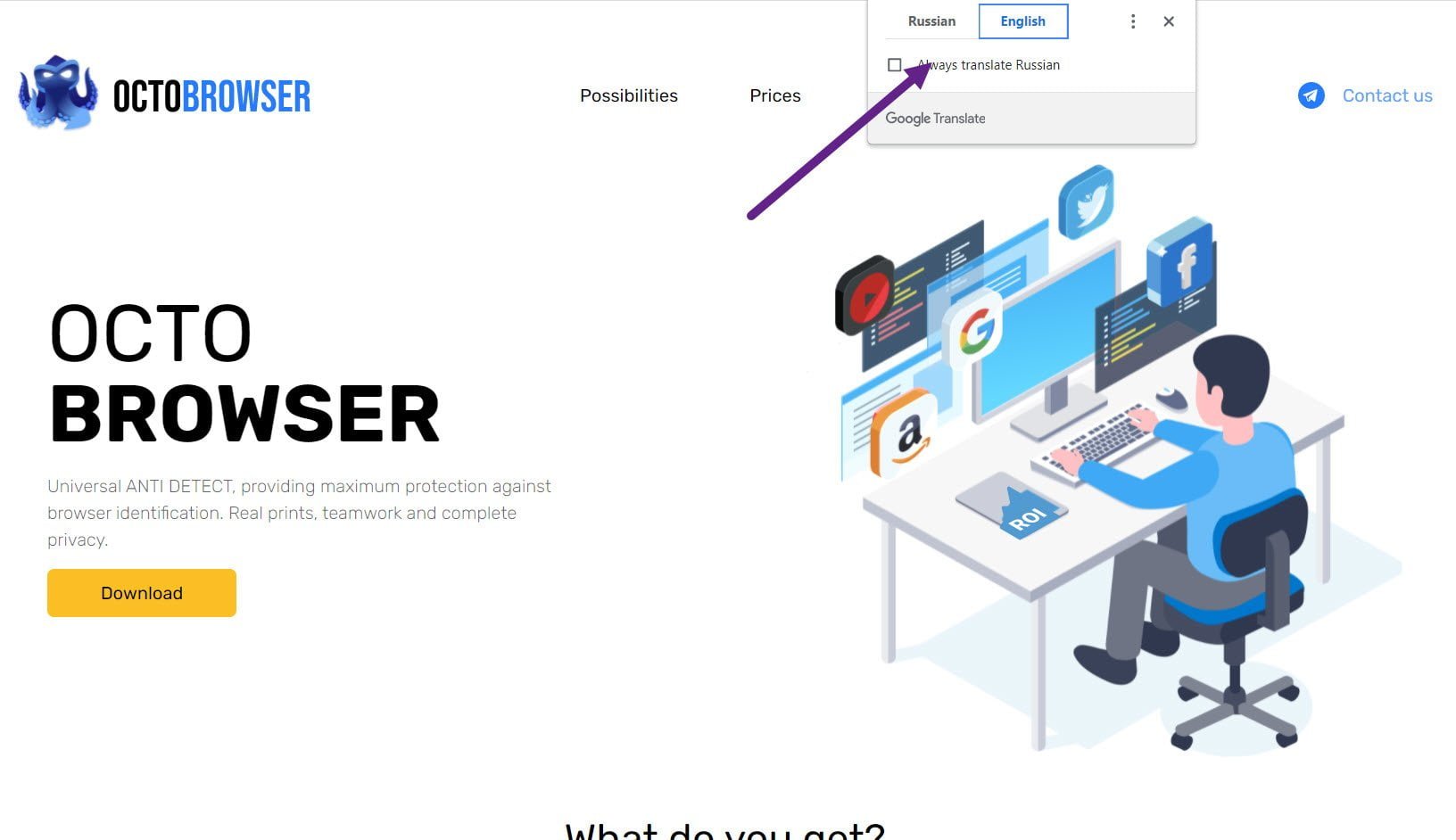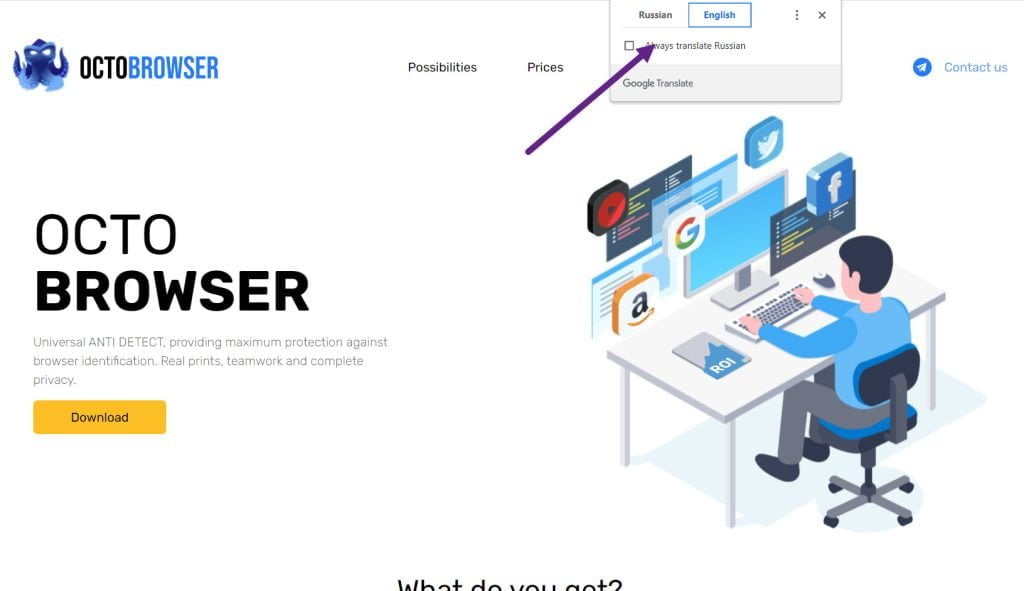 The APP itself which runs on the Windows client is in English 100% and we find that the installation process is very simple. It only takes a couple of minutes. 
Step 2: Click "Create Profile" In The User Dashboard
Profiles are simply the login information saved per account you create or manage. To make a new user login simply create a profile by clicking the button at the top.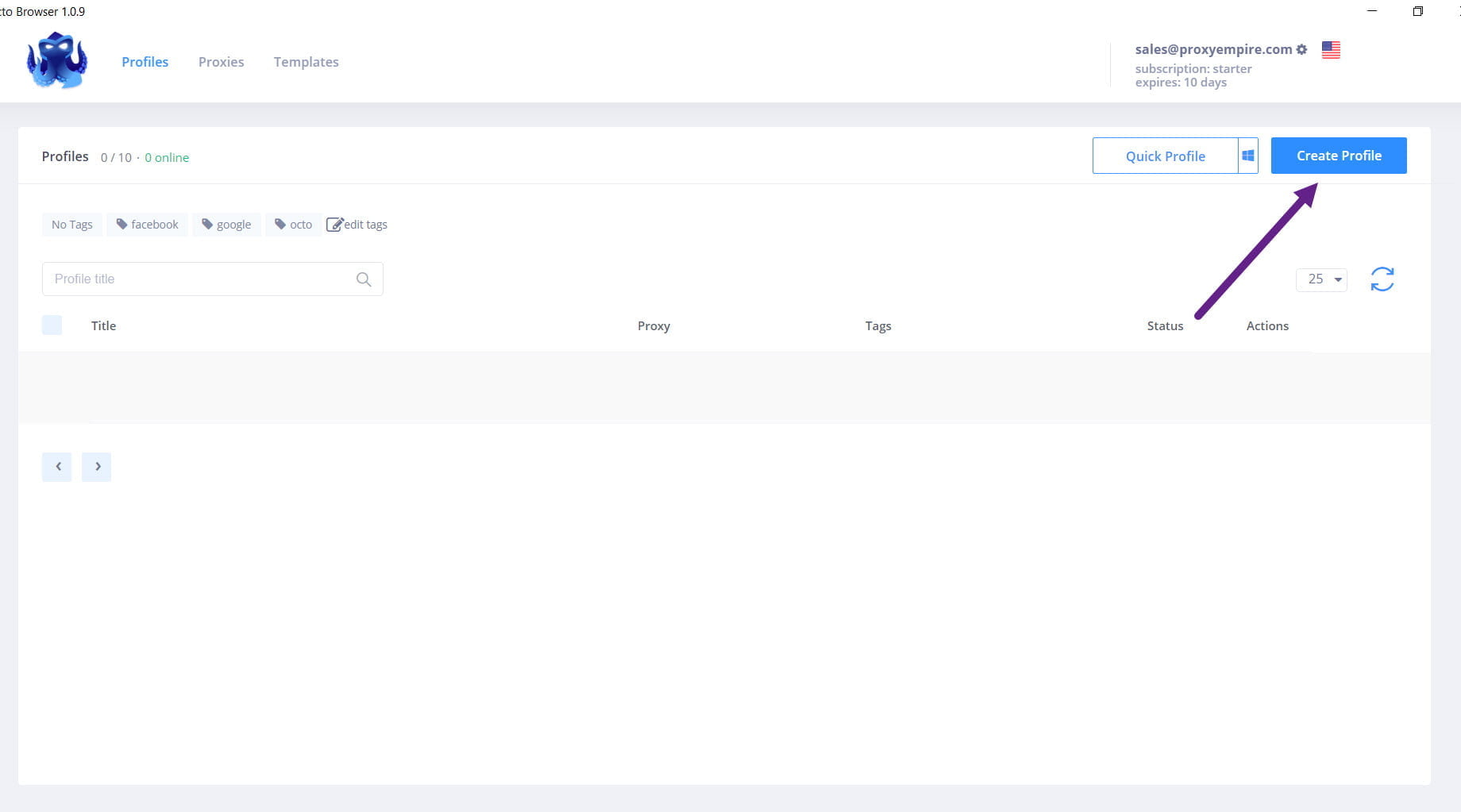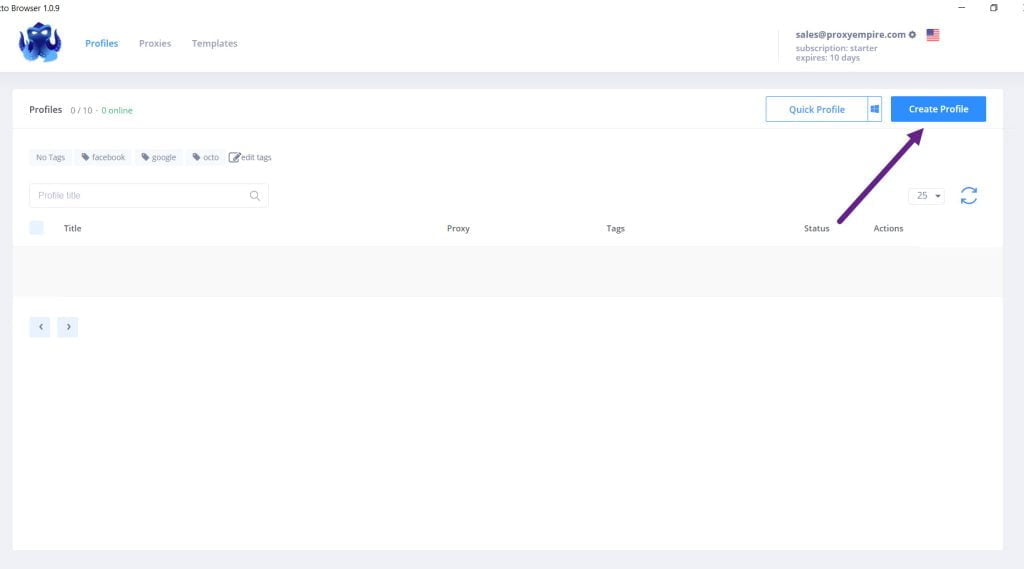 You can opt for an auto-generated profile, but in this guide, we will set everything up manually. 
Step 3: Set Your Start Page & Name Your Profile
The start page is what the browser will open to first. We recommend setting the starting page to https://whoer.net so you can check your connection.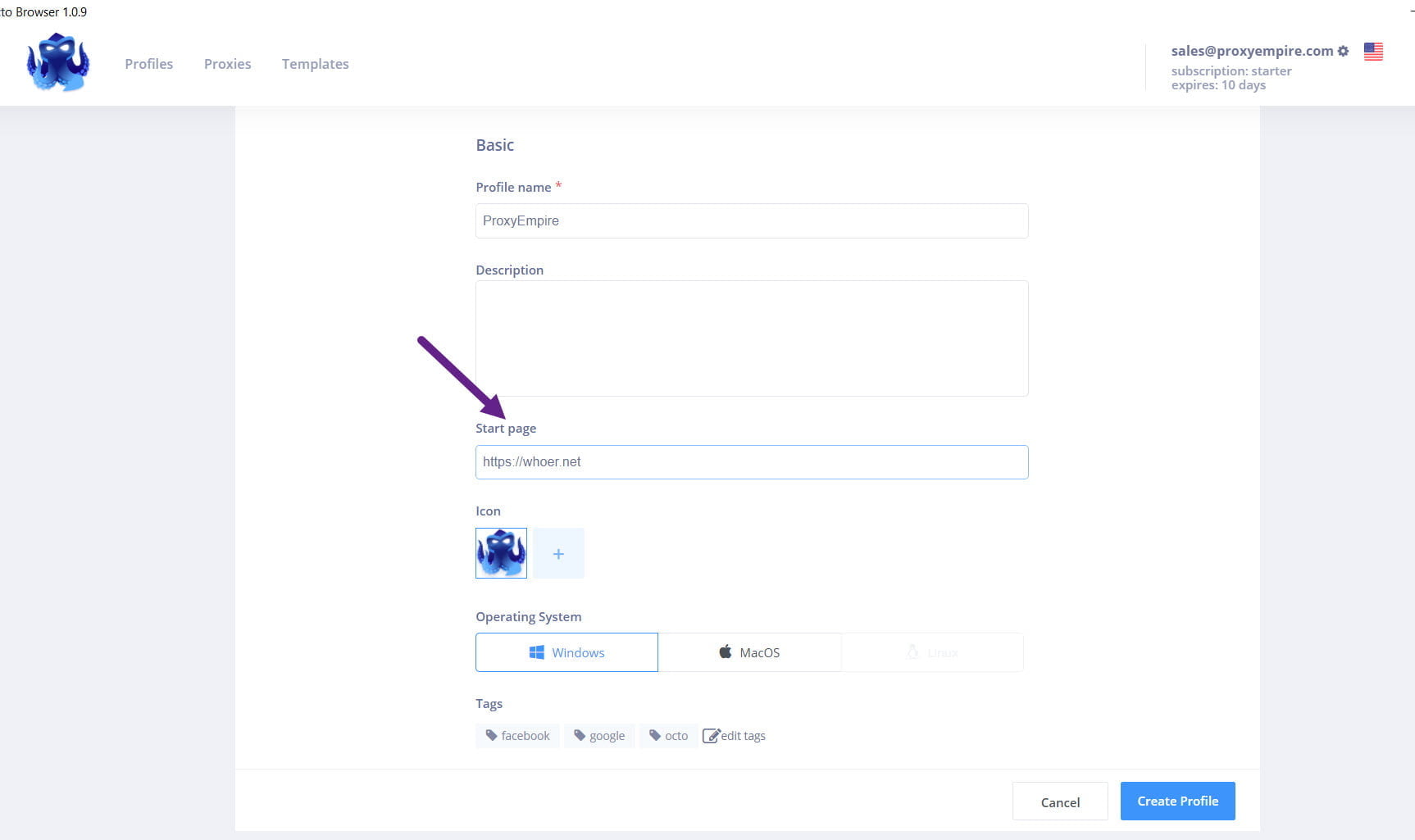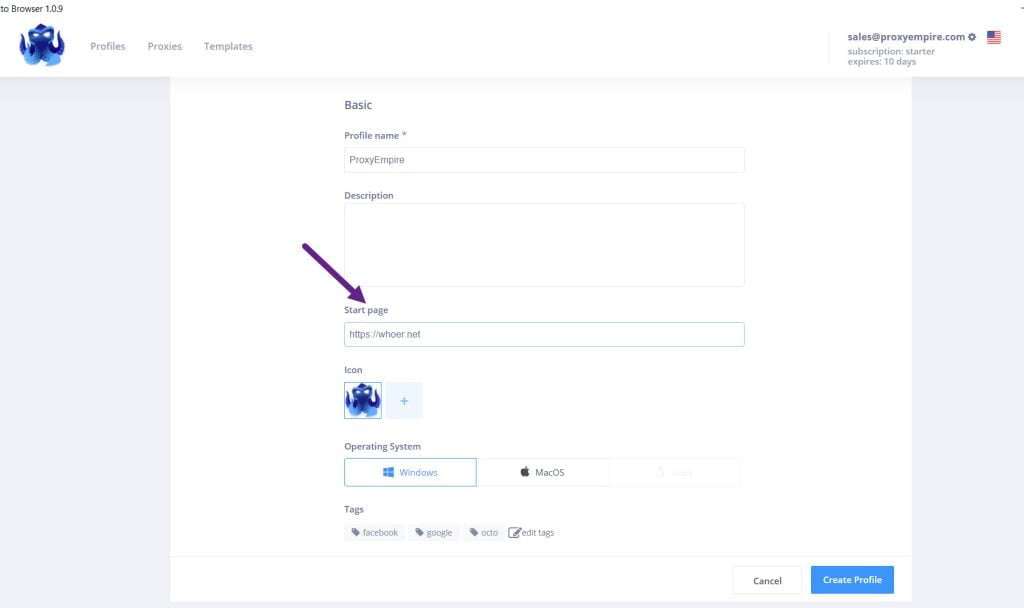 Name your profile something memorable that helps you manage each account.
Step 4: Check Your Browser Footprint Settings
For the ultimate anonymity, we recommend setting each option so that it uses your proxy's IP Address and not your real IP Address. Try to make each profile consistent.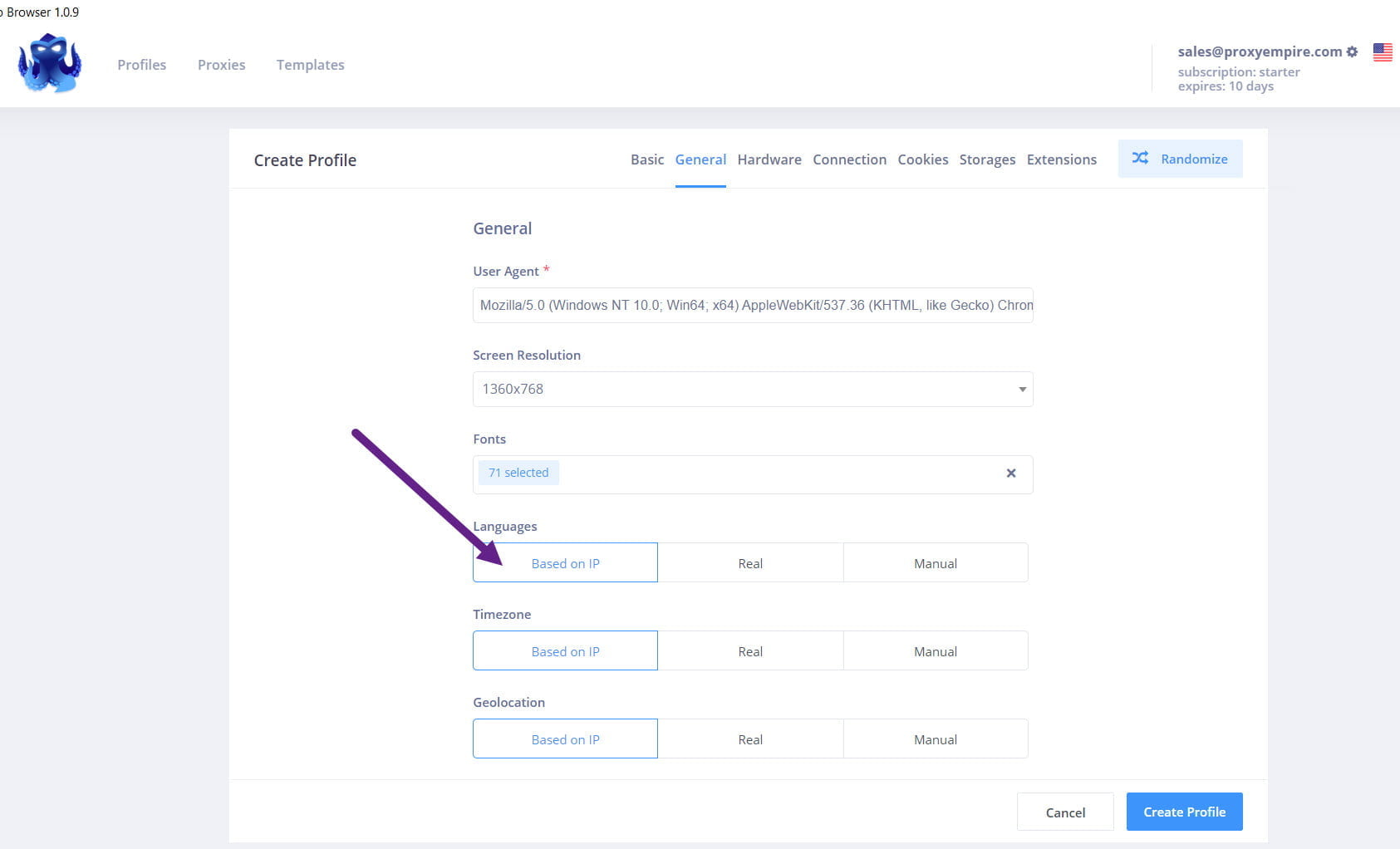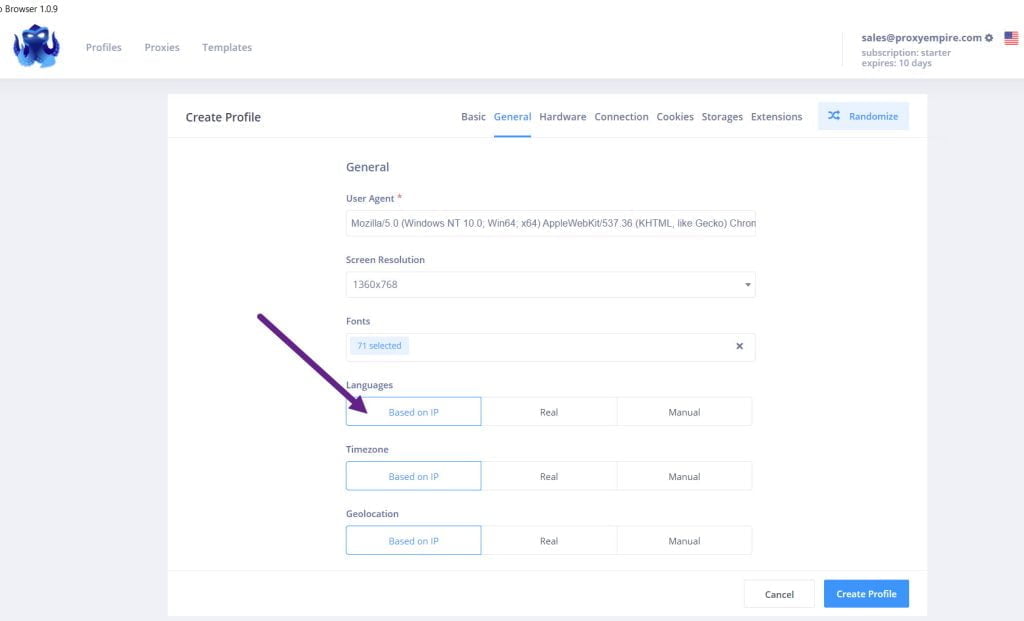 As an example, if you choose to set up an Apple profile, try choosing Safari as your browser instead of Windows edge or Firefox.
Step 5: Fill Out Your Proxy Settings From ProxyEmpire
Sign into your ProxyEmpire dashboard and go to the "Proxy Manager" tab. From there you can select your proxy filters and copy/paste the information over to Octobrowser.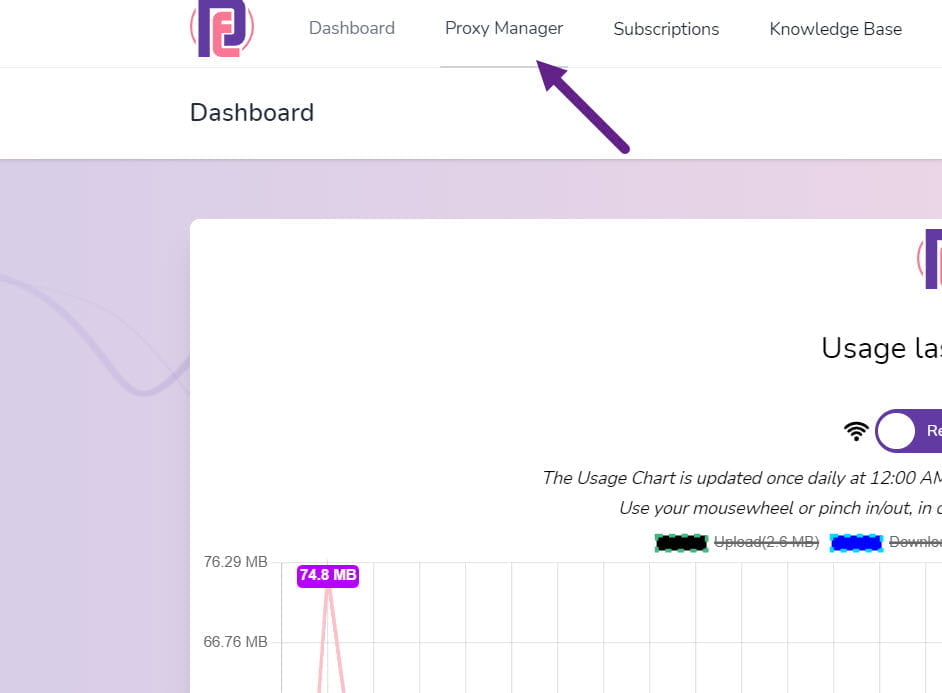 Copy the username, password, IP Address, and port over to your new profile at Octobrowser.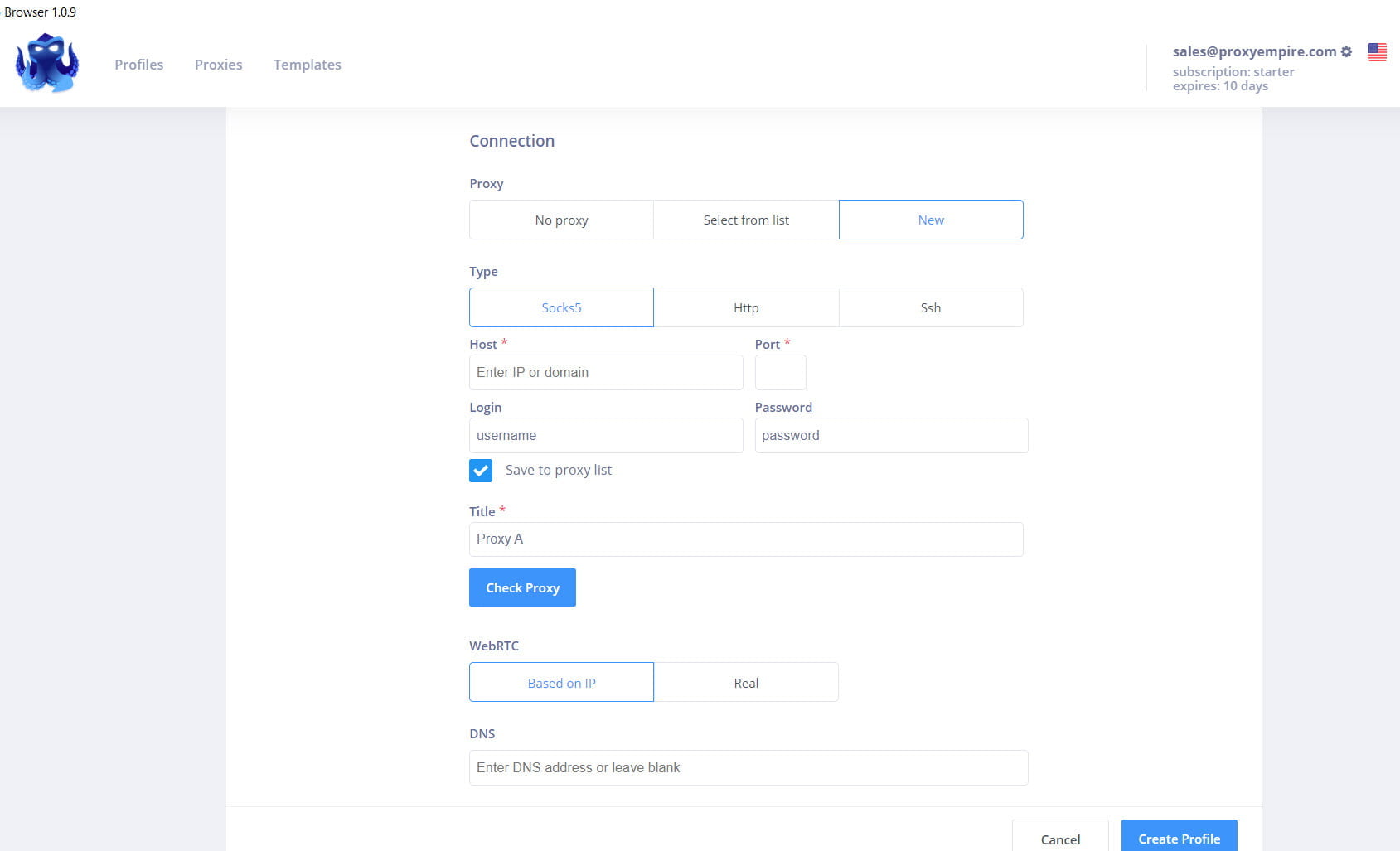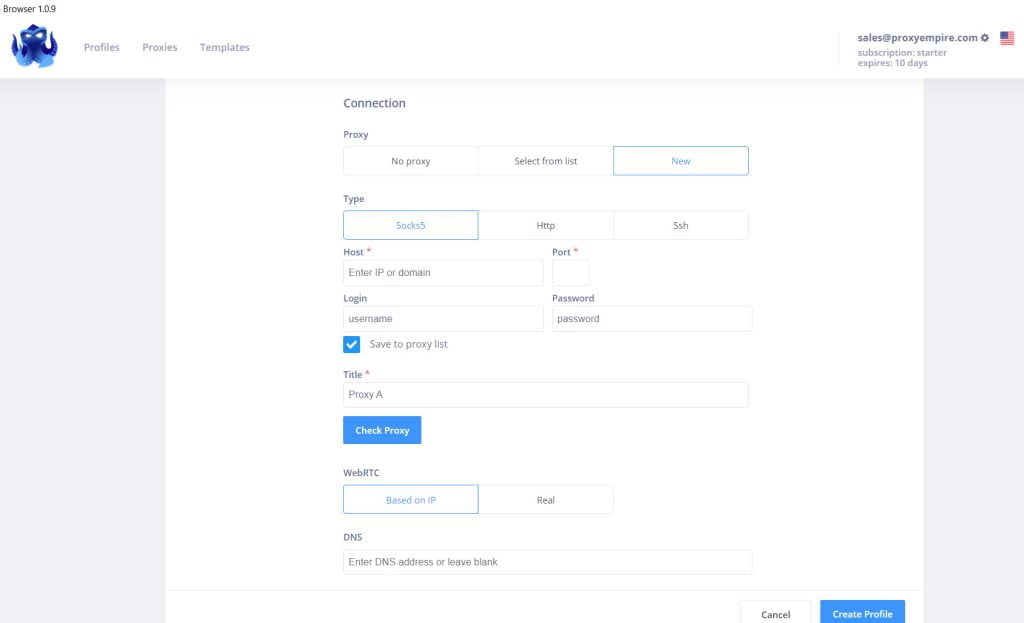 ProxyEmpire supports HTTP/HTTPS/SOCKS4/SOCKS5 protocols, but for Octobrowser we recommend using SOCKS5. Make sure your WebRTC setting is based on the IP. 
Step 6: (Optional) Upload Your Cookie Settings
If you are moving an existing account from a browser to Octobrowser you can export your cookies and import them into Octobrowser so that the platform recognizes your authenticity.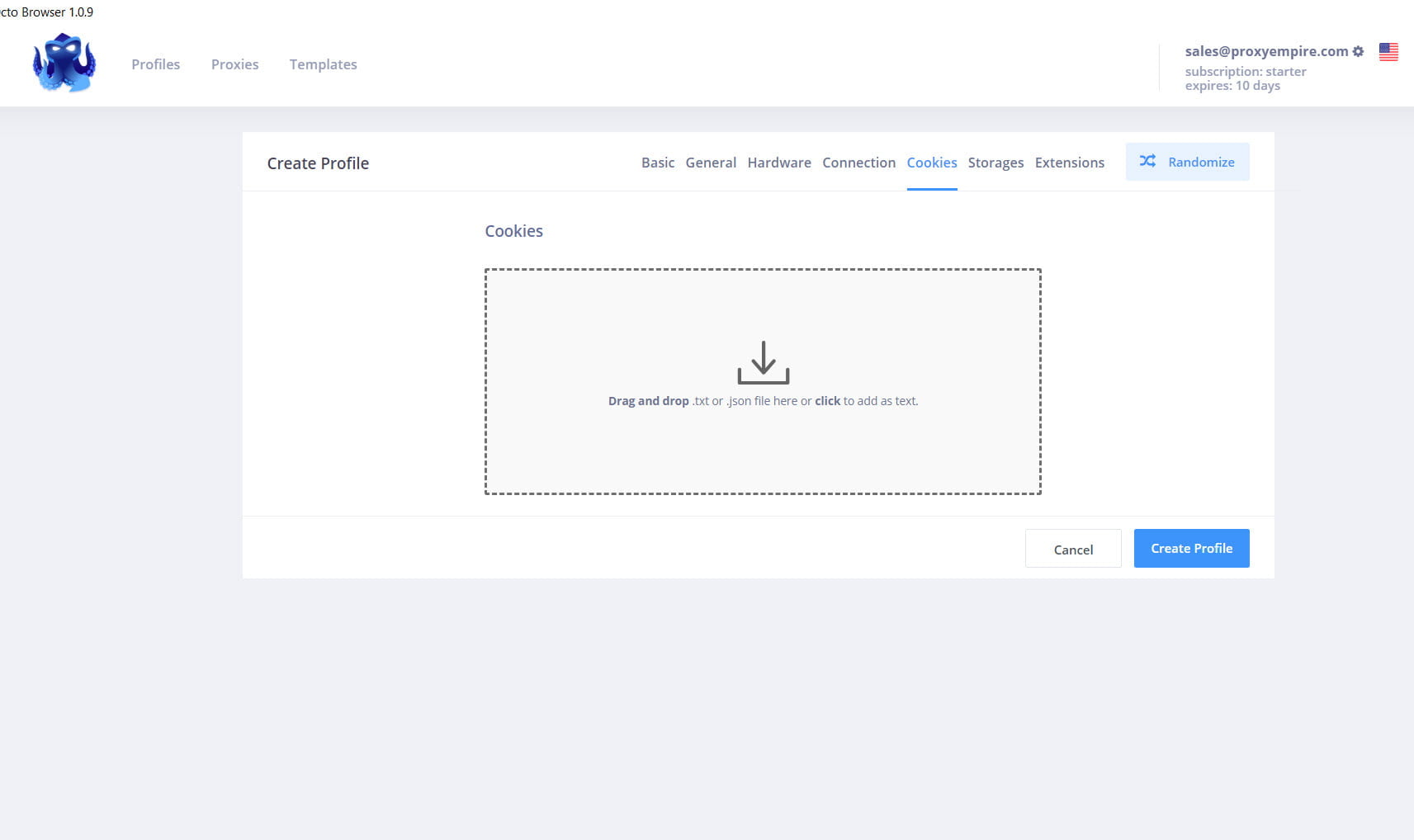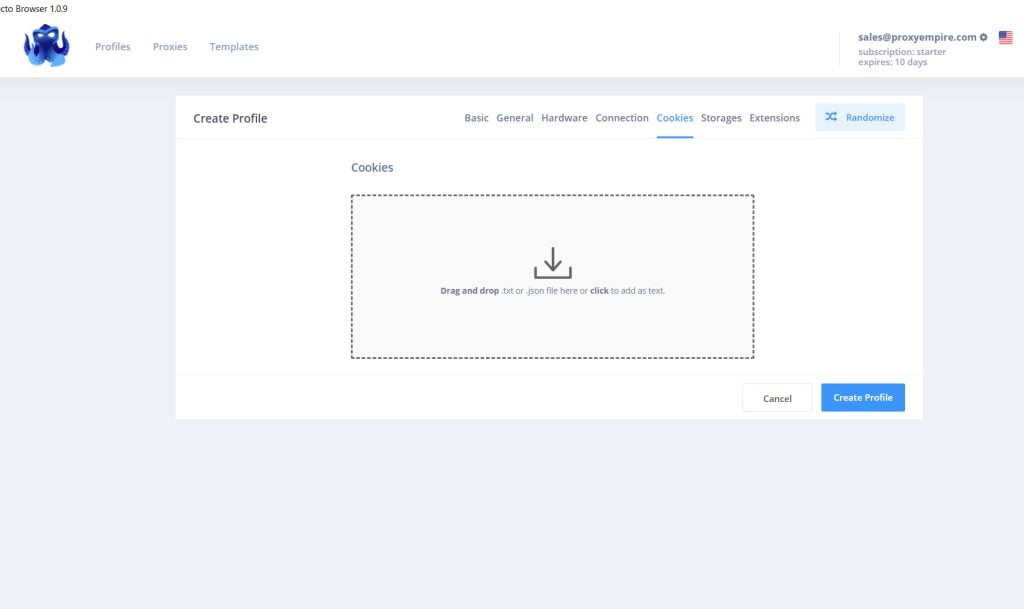 Of course, this is completely optional, but it's a great feature for those with preexisting accounts.
Any antidetect browser is only as good as proxies that are powering it. True anonymity must include clean and unique IP addresses. When you combine great technology like Octobrowser with the infrastructure of ProxyEmpire; freedom on the internet is realized.
Need help getting started? 
Send us a message in our live chat and while you wait check out some more of our tutorials to maximize your experience. 
TL;DR
ProxyEmpire brings you efficient access to Octobrowser, the new-age anti-detect browser. Ideal for professionals like social media managers to corporations, the Octobrowser allows multiple accounts operation without any linkages. It emulates different user agents and significant markers, offering anonymous web surfing not by hiding, but assigning a fresh identity for each account.
Having interacted with the Octobrowser team at the MAC Moscow conference in 2021, ProxyEmpire's staff can vouch for its superior tech and high compatibility rate with several platforms including Amazon and Craigslist.
The simple setup process requires downloading and signing up to Octobrowser, creating a profile, and setting a Start Page. It is essential to check browser footprint settings to maintain anonymous browsing consistent with your proxy's IP Address obtained from ProxyEmpire.
Using robust tools like Octobrowser, along with ProxyEmpire's infrastructure, guarantees unhindered internet access. Get started today with ProxyEmpire's expert support via live chat, and explore through the many other tutorials to optimize your experience.