GoLogin is an antidetect browser for multi-accounting. It enables the user to create and manage multiple profiles on websites. GoLogin lets you customize every single parameter of your browser footprint, and has a large database of over 50 different pre-set configurations.
Each browser profile that you create is containerized separately in the cloud. It comes with built-in functionality for teamwork enabling you to easily share profiles and proxies between your team members and give them different levels of access.
In this tutorial you will learn how to use GoLogin proxies, download GoLogin, and integrate it all in just a couple of clicks with ProxyEmpire.
We created this tutorial and tested it on a Windows operating system. Once you download GoLogin an installer will do the rest of the work. Saving the install to the taskbar was our favorite way to access their anti-detect browser.
You can download their application by visiting this GoLogin download page.
As with everything else from this company it is a smart page that will begin downloading the correct app depending upon your operating system.
If you're using a Mac you'll be glad to know that the GoLogin download will work for Mac OS. one of the best features of the browser is that it can be accessed via your mobile phone by installing it from Google Play. We have not discovered an iOS capable app yet.
Why do you need proxies for GoLogin?
Follow these steps to use ProxyEmpire with Gologin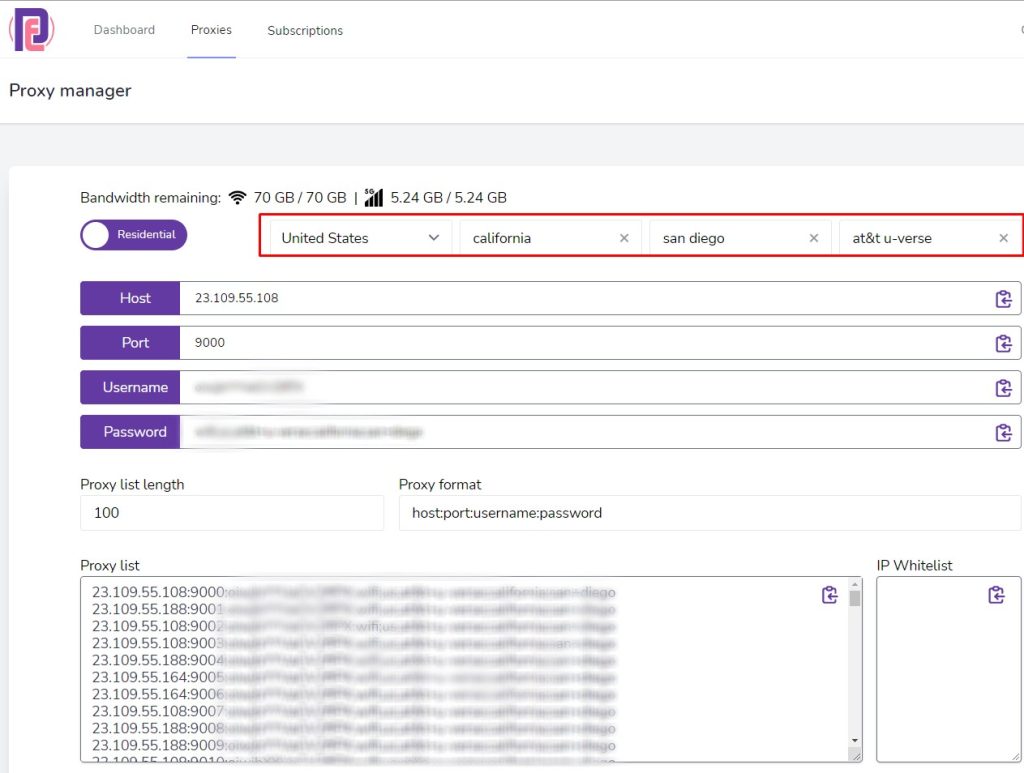 Once you have copied your proxy details, go ahead and open the GoLogin app and you'll see the following screen:
After you click on the "New Profile" button, you'll see the following screen, pick the connection type you want to use, ProxyEmpire supports the following protocols – HTTP, HTTPS, SOCKS4, SOCKS5, and then enter your personal residential or mobile proxy details: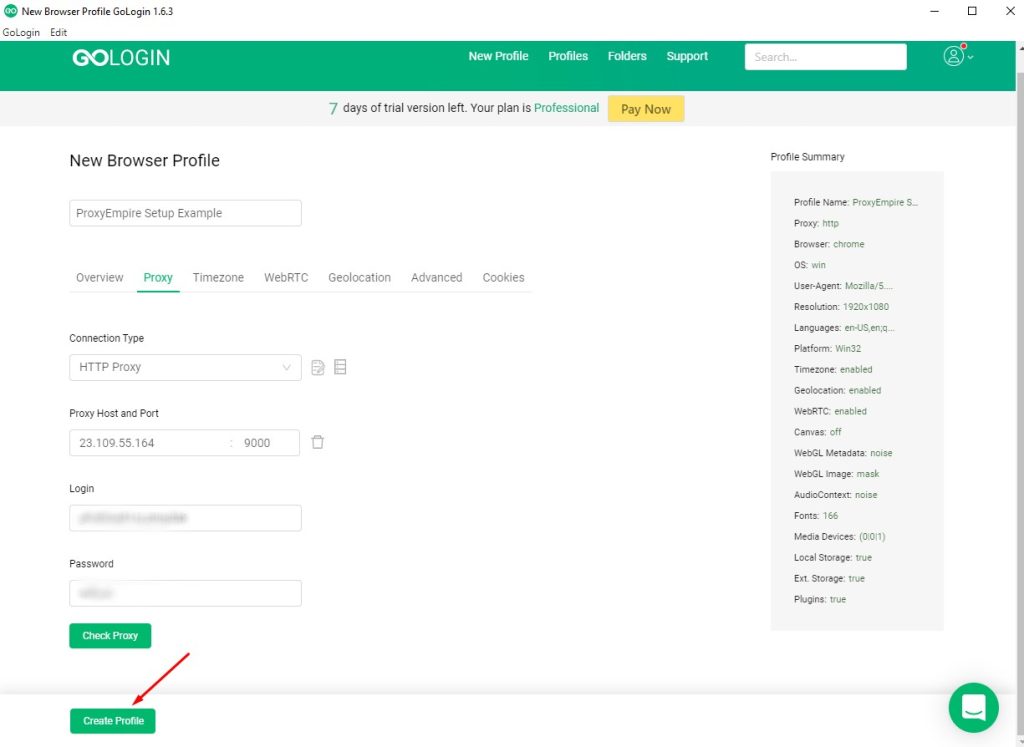 After you've sucessfully created your profile, you can go ahead and start using your Gologin profile with ProxyEmpire's proxies.
People often ask what a GoLogin proxy is and how to best use them. It's the wrong question to a correct answer. There's really no such thing as a GoLogin proxy, but rather proxies that can be used with GoLogin. ProxyEmpire for example provides GoLogin clients with residential proxies.
Just to be clear, a basic account at GoLogin will provide you with shared proxies.
These proxies are convenient because they come with your account but typically aren't safe to use on platforms that are sensitive like Instagram, Amazon, or Google.
Shared proxies mean that they come from a data center and are used by a lot of people. This opens them up to abuse and they can easily be blacklisted. That's why people who use GoLogin come to ProxyEmpire in order to create safe accounts.
To use Gologin to its maximum potential you should definitively use proxies – either residential, mobile or datacenter proxies.
The GoLogin price depends on how many profiles you need to create. Don't allow the term profile to confuse you. that terminology just described how many accounts do you want to operate within your GoLogin anti detect browser.
The price of GoLogin is billed out on a subscription basis every month.
You can save money by subscribing on an annual basis. Those who opt-in for annual payments will save up to 50% off their subscription. If you're just trying to get started, you are looking at paying at least $50 a month for 100 profiles on a monthly basis.
Considering the features of GoLogin that price seemed reasonable.
GoLogin Promo & Discounts
Periodically GoLogin offers discounts and promotions on holidays like Cyber Monday. For the best discount possible you can just purchase annually which will give you 50% off. If your company can afford that, obviously it is the best option.
ProxyEmpire has secured an exclusive GoLogin promo code.
just reach out to us in our live chat and we will provide the promotion to you so that you can get the best possible price at GoLogin.
Benefits of using Gologin Browser
Gologin is suitable for managing large number of accounts for different websites in bulk and organizing multiple profies with different browser fingerprints. You can scale your business much faster while keeping your separate accounts safe. Digital markets often use it to check their ads or manage social and advetising accounts. Combining Gologin with Proxy is the best way to avoid bans and keep your accounts secure.
They have one of the best fingerprint databases with hundreds of connection settings, such as operating systems, connection types, advanced timezones,  WebRTC, fonts, hardware device characteristics and others. You can also check the trust level of your fingerprint and use a real-world browser settings, based on their database.
Gologin supports all host platforms (Windows/MacOS/Linux and Android) and even offer an online cloud version of their software. That allows you sing into your GoLogin account remotely using just a regular browser.  AES encryption will be applied so your data will be secure while you manage your profiles. 
Some other GoLogin features include Team Members, Session Synchronization, Master password and a Vault with their browser extension.
Their platform is easy to use and you can always get an assistance from their live customer support in case you need something more advance.
Getting Started With Proxy Empire
Starting your static residential proxies and mobile proxy journey is a breeze with ProxyEmpire's $1.97 trial. Get access to 150+ countries and thousands of connections in minutes. Learn more about how to get started with your trial by checking out our getting started guide here.
TL;DR
GoLogin is an antidetect browser that enables users to create and manage multiple profiles on websites. Integrating GoLogin with residential and mobile proxies from ProxyEmpire provides additional security and anonymity.
GoLogin allows customization of browser footprints with different pre-set configurations. Profiles are containerized separately in the cloud. It has built-in teamwork features to share profiles and proxies between team members.
To integrate ProxyEmpire proxies with GoLogin, first select the proxy type, country, region, city and ISP in the ProxyEmpire dashboard. Copy the proxy details. Open GoLogin and create a new profile. Pick the connection protocol – HTTP, HTTPS, SOCKS4 or SOCKS5. Paste in the proxy details. The profile can now be used with the ProxyEmpire proxy.
GoLogin proxies are shared proxies that come with basic accounts. They are convenient but not ideal for sensitive platforms. For best results, ProxyEmpire residential or mobile proxies should be used.
GoLogin is priced based on the number of profiles needed. Monthly or annual subscriptions are available, with annual saving 50%. Promotions may be offered on holidays. ProxyEmpire provides an exclusive promo code.
Benefits of GoLogin include bulk account management, organizing profiles and scaling faster. The fingerprint database has hundreds of options to avoid bans. It supports Windows, Mac, Linux, Android and a cloud version. ProxyEmpire makes integration simple to enhance privacy.