Undetectable.io is an advanced antidetect browser that gives individuals and corporations alike the ability to log into multiple accounts without leaving fingerprints across the internet. You can leverage their proprietary software to remain anonymous or manage multiple accounts. 
With high-quality residential & mobile proxies powering each login saved within Undetectable.io from ProxyEmpire; you can be assured that your accounts and privacy are truly safe. 
As official partners, we are going to teach you step by step how to set up an account using Undetectable.io with ProxyEmpire.
Step 1: Sign Up & Install Undetectable.io
You have to sign up for a plan first and then you will be given a license where the download becomes available. The download is quick and available for Windows.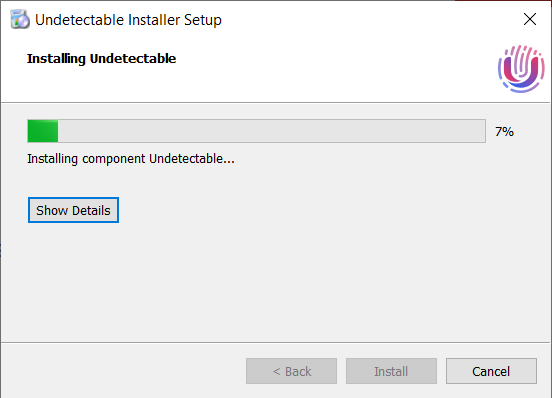 Make sure you do not have a virtual private network running in the background when you go to set up profiles and use Undetectable.io or ProxyEmpire. 
Step 2: Select New & Choose Your Profile
Name your new profile something that fits your project for this login. If you need more ideas for user agent strings simply go to the "config" area and select a new one.
In this section you can choose your language, operating system, and browser.
Step 3: Choose Your Proxy Settings
Once you have an account at ProxyEmpire simply select "Proxy" within Undetectable.io and copy/paste your username, password, and select SOCKS5 within the software.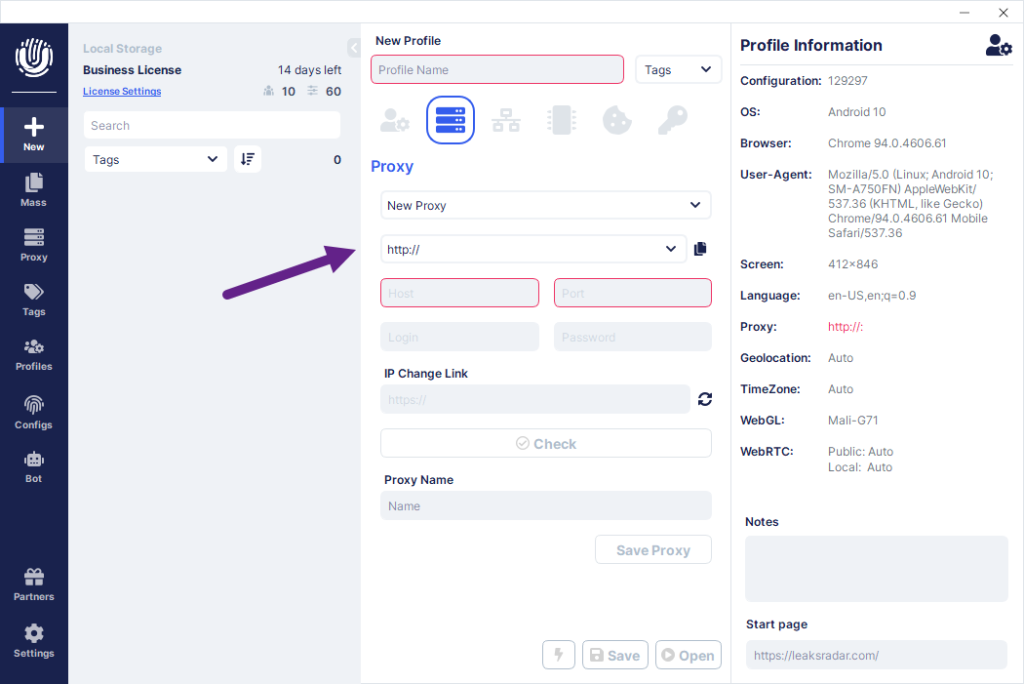 ProxyEmpire supports the protocols HTTP/HTTPS/SOCKS4/SOCKS5. Name your proxy, save it, and continue on to the next step. 
Step 4: Check Your Antidetect Settings
Emulation means the settings will be based off of either the proxy from ProxyEmpire or the settings within Undetectable.io. Noise scrambles your original fingerprint and is necessary for anonymity.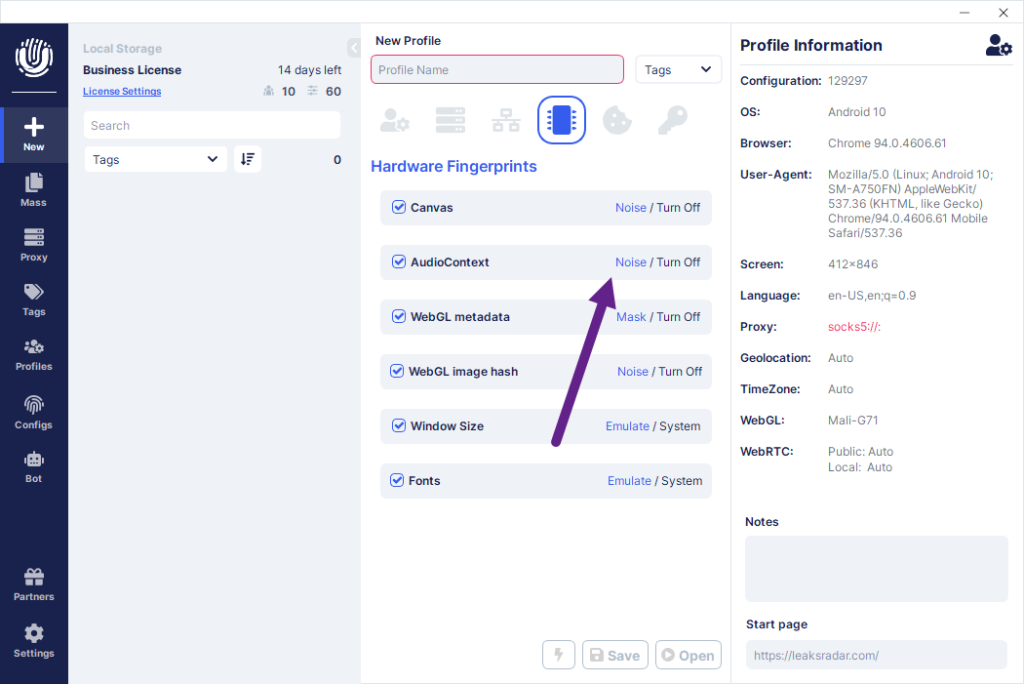 Some platforms look for "noise" which essentially is like cloaking. It's better to just leave "noise" on though for the default setting.
Step 5: Deploy Ready Made Configurations (Optional)
One great feature of Undetectable.io is the built in configuration that you can readily deploy based on your filters. It's optional, but makes account set up quick.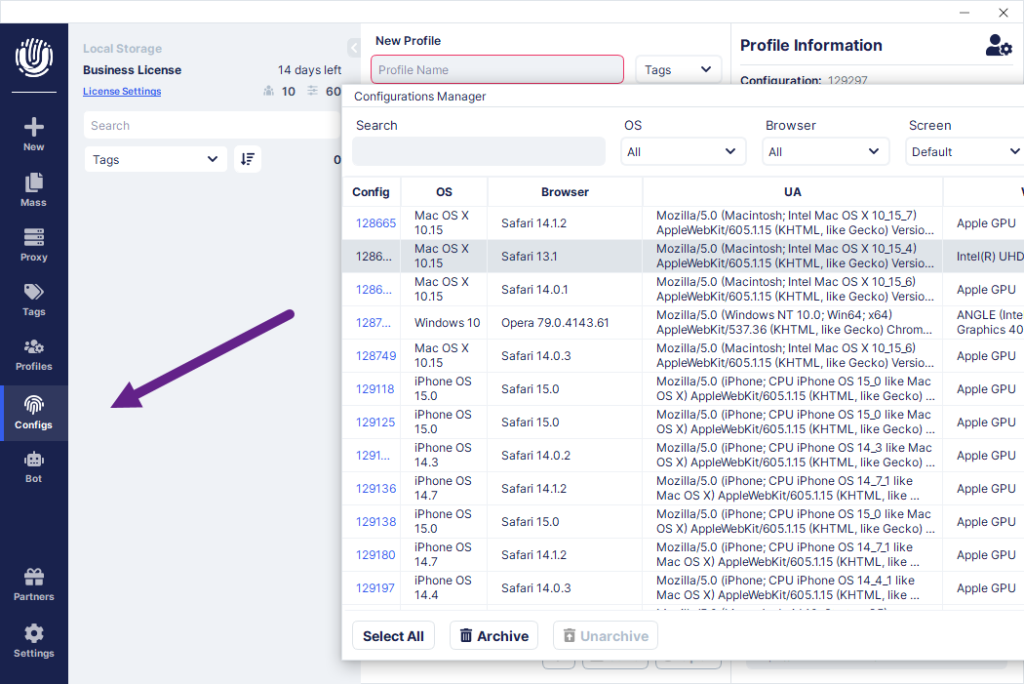 Make sure you select a residential or mobile proxy from a GEO-location that is appropriate for the browser configurations you set. 
Maximize Your Browsing Safety with undetectable.io and ProxyEmpire
The internet is far from being an anonymous environment – tracking from corporations, hackers, and governments is frequent. This makes it crucial to secure your identity and online footprints. With the matchless combination of undetectable.io's advanced antidetect browser and ProxyEmpire's supreme residential proxies, you can surf the web, create multiple profiles, and operate without the fear of being tracked.
Once you have integrated these two technologies, you can be assured that your IP address, hardware configuration, software environment, and cookies are safe from prying eyes. Equipped with this toolset, you are free to focus on driving your business forward or enjoying a hassle-free internet experience. And don't forget to utilize the exclusive undetectable.io promo code PROXYEMPIRE to save 20% on your first purchase.

ProxyEmpire: The Reliable Partner for Your undetectable.io Browser
The smooth functioning of undetectable.io is largely reliant on robust and dependable proxies. This is where ProxyEmpire enters the picture. The residential and mobile proxies provided by ProxyEmpire are specifically designed to complement undetectable.io's antidetection capabilities.
ProxyEmpire offers various protocols such as HTTP, HTTPS, SOCKS4, and SOCKS5, providing you with a wide selection according to your need. In essence, ProxyEmpire amplifies the functionality of this advanced browser, making it unstoppable. In fact, it is this collaborative essence of ProxyEmpire that makes the integration so seamless and effective.
Leverage the Power of undetectable.io with ProxyEmpire Integration
In the era where data breaches and personal information misuse are rampant, implementing measures to protect your privacy while also managing multiple accounts is no longer a luxury but a necessity. Using the undetectable.io browser with ProxyEmpire's residential proxies offers you an extra layer of privacy on the internet, protecting your sensitive data and account information.
This advanced antidetection browser armed with ProxyEmpire's powerful residential and mobile proxies safeguards you against multiple forms of online surveillance. It secures your browsing habits, user data, and multiple account footprints such that you leave no trace behind, making your presence virtually undetectable on the internet.

Remember to use the promo code PROXYEMPIRE at checkout for an exclusive 20% discount when you sign up for undetectable.io combined with ProxyEmpire. Don't take a backseat when it comes to your online privacy and account management – dive in and experience the benefits of this advanced partnership today!
Undetectable.io and ProxyEmpire are now official partners which means we 100% support integration. They provide topnotch technology in the antidetect space and we are proud to power that tech for each user with our residential & mobile proxy infrastructure.
Remember to use the exclusive Undetectable.io promo code PROXYEMPIRE to receive 20% OFF your first purchase of any package at Undetectable!
TL;DR
Undetectable.io is an advanced antidetect browser that allows users to remain anonymous online while managing multiple accounts. Powering each login with high-quality residential and mobile proxies from ProxyEmpire, it maintains the safety of user accounts and privacy. In five simple steps, you can set up an account using Undetectable.io and ProxyEmpire.
After signing up and installing Undetectable.io, name your new profile, select your language, operating system, and browser. In the proxy settings, copy and paste your username and password from ProxyEmpire, choosing SOCKS5 as the protocol. Next, check your antidetect settings – keep the "noise" setting on for scrambling your original fingerprint, thereby ensuring anonymity. Lastly, enjoy the convenience of Undetectable.io's readily deployable built-in configurations in accordance with your filters – a powerful feature that makes the account setup process more efficient.
Undetectable.io is fully integrated with ProxyEmpire, standing as industry leaders in the antidetect space, offering an additional assurance of online safety, which is vital in this digital age.